Why Hire a Licensed Contractor?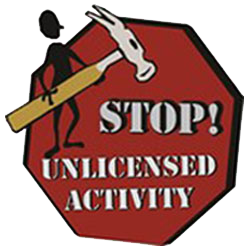 When considering a construction project, the first concern is usually cost.  In an effort to save money, many consumers hire non-licensed contractors.  You may be saving money, but you have opened yourself up to a huge financial liability.
"In California, anyone who contracts to perform work on a project that is valued at $500 or more for labor and materials must hold a current, valid license from the Contractors State License Board" (What Kind of Contractor Do you Need? www.cslb.ca.gov).  An unlicensed worker who is injured on your property can sue you for damages.  Any damage to your property, such as fire, will be your responsibility and may pose problems with your insurance company.  In addition, if the work is left incomplete or is faulty, you have no recourse and must pay for repairs yourself.
Some handymen have talked their customers into completing work without a permit, only to be caught by the local permit enforcement agency.  The cost to comply with retro-permitting can be high and may require partial demolition in order for building inspectors to pass stages of the project.  In some cases the entire project may be halted, never to be completed due to setbacks, zoning, etc.  The effort to save money may have just cost the consumer more in the long run.
Many ask "Why are licensed contractors more expensive than a handyman"?  Below is a partial list of the elements that are required of a licensed contractor, making doing business more expensive for them:
They are bonded
They carry general liability insurance and usually workers compensation insurance as well
They are more educated in the field of construction, including contract law and ethics
Their experience is documented and tested
They are required to hold additional permits and receive specialized ongoing education (lead abatement, for example).
They are subject to many building regulations, energy-saving standards, lead-abatement rules, etc. that cause an increase in both material costs and labor
They must warranty their labor for 10-years from construction date
So the next time you are considering hiring a handyman for a job that should be handled by a licensed contractor, consider the above.  For more information on hiring a licensed contractor, see the Contractors State License Board's website at:  http://www.cslb.ca.gov/Consumers/